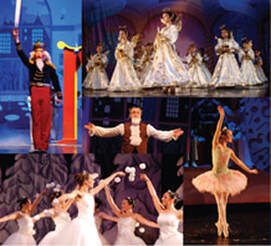 The official school of the American Dance Theatre of Long Island is the ​
American Ballet Studio.
Our mission is to provide opportunities for the youth of our community to engage in all levels of dance. The American Dance Theatre of Long Island is positioned to provide expert training and education in the art of dance to children of all ages, from beginner through advanced levels. We offer the necessary training to our students that will develop their strength, artistic and technical abilities in the art form.
Our commitment to excellence in teaching and high quality dance education requires discipline and rigorous practice to achieve high goals of competence in technical and aesthetic aspects of dance. It is our mission to train the entire person in achievement with our attention to the students as individuals. As such, our students gain positive reinforcement of the ideals and work ethics of society at large.
​Performance is central to the art of dance, both for the individual performers and for the company at large. A performance requires a personal best from each participant and the utmost cooperation from all participants, thereby reinforcing their abilities to work with others as a team toward a common goal. Those students who are seeking to become professionals in dance will gain incremental skills as they train and work toward their career goals.
​American Dance Theatre of Long Island has won praise for its performances and will use this platform as part of its outreach function to share the gift of dance throughout the community. We have held ballet performances to benefit national (Make a Wish Foundation), and local Long Island (St. Charles and Good Samaritan Hospital) charities. The company will continue this tradition as we further develop our presence in the community.
Artistic Director
Kathleen Kairns-Scholz
Kathy received her primary training from world renowned former New York City Ballet principal dancer, Andre Eglevsky. Mr. Eglevsky and his wife Leda Eglevsky also a former dancer with NYCB, awarded Kathy with a full scholarship to their studio until her graduation from high school. She then went on to study in New York City with Melissa Hayden, David Howard, Finis Jhung and Maggie Black. As a student with the Eglevsky ballet Kathy performed at the Nassau Coliseum as Clara in The Nutcracker and then at age 16 was asked to apprentice with the Eglevsky Ballet and later returned as a company member. At this time she worked under the directorship of Mr. Edward Villella former NYCB principal and founder of the Miami City Ballet. Kathy then moved to Indianapolis to dance as a soloist with the Indianapolis Ballet Theatre under the direction of George Verdak. While dancing with the company she had the rare opportunity to work with Alexandra Danilova. After that she joined the Fort Worth Ballet now known as Texas Ballet Theater, as a soloist under the direction of Nanette Glushak and Michele Rahn. Kathy then joined the Richmond Ballet under the direction of Stoner Winslett. Here she worked with such notable contemporary choreographers as Vincente Nebrada, John Butler, Val Caniparoli and William Soleau. Her contemporary repertoire includes Carmina Burana, The Green Table, Aubade, and Hymn. She was lucky enough to work with Frederic Franklin, who coached her in the lead role of Coppelia. During her dance career Kathy was fortunate to dance lead roles in ballets choreographed by the late George Balanchine these include Tarantella, Who Cares, Rubies, Serenade, Allegro Brillante, Donizetti Variations, and Concerto Barocco. Kathy also performed as the Snow Queen, Dew Drop Fairy and Sugar Plum Fairy in each company's version of The Nutcracker. After her dancing career Kathy was asked to join the teaching staff at Frank Ohman School of Ballet and became ballet mistress with the New York Dance Theatre. Kathy is a current member of the Long Island Dance Consortium. LIDC provides the advanced students of American Ballet Studio to have more opportunities to dance. Twice a year they perform for LIDC at Long Island High School for the Arts and The Huntington Summer Arts Festival at the Chapin Rainbow Stage in Heckscher Park. Kathy was invited to collaborate with acclaimed violinist and composer Matthew Pierce and the Northport Chorale. "Hope is the thing with feathers" was performed at the Huntington Arts Council's 50th Anniversary Celebration. Kathy is currently the Artistic Director of the American Dance Theatre of Long Island, which she has held that title for the past 19 years and is the choreographer of ADTLI 's production of "Clara's Dream, The Nutcracker".
​
Assistant Artistic Directors
Megan Scholz
Megan received her dance training at the American Ballet Studio and she performed with the American Dance Theatre of Long Island for many years. Megan danced the lead role of Clara and then went on to perform soloist roles such as the Snow Queen and Dew Drop Fairy. She was accepted into Ballet Hispanico and Richmond Ballet's Summer Intensives. Megan attended Virginia Commonwealth University where she studied dance and choreography. Her primary teachers there were Christian Von Howard who is the artistic director of the Von Howard Project and Scott Putman who is the creator of EBAS
(Elemental Body Alignment System). While at VCU, Megan attended workshops taught by company dancers from Doug Varone and Urban Bush Women. Megan is currently the Assistant Artistic Director of the American Dance Theatre of Long Island and she enjoys dancing as the lead mom in ADTLI's production of "Clara's Dream, The Nutcracker".
Brianna Paul
Brianna is currently the lead teacher of a preschool class at Tutor Time Learning Center. A Wagner College alumnus, Ms. Paul holds a Bachelor of Arts degree in Fine Art, cum laude, with a minor in Art History and a Concentration in Dance. During her time at Wagner, Ms. Paul performed in numerous dance pieces and attended the American College Dance Festival as a featured soloist in Danny Buraczeski's Ezekiel's Wheel ('08). She has been fortunate enough to study a variety of modern dance styles and techniques, including her experience with the 2009 Dance New Amsterdam Intensive, the Amy Marshall Dance Company ('10), and Cecilia Flores' Floorwork Dance Company ('11). A former Principal Dancer and graduate of ADTLI, Ms. Paul began studying under Kathleen Kairns-Scholz, ADTLI's Artistic Director, at the age of three. Brianna currently teaches at the American Ballet Studio, where she previously attended classes and danced leading roles such as the Sugar Plum Fairy in ADTLI's , "Clara's Dream, The Nutcracker." Brianna is currently the Assistant Artistic Director of the American Dance Theatre of Long Island.

​631-472-3455
587 Middle Road, Bayport NY 11705